2012 5x5
5X5
Check out The New York Forum AFRICA 5 minute research presentations developed in partnership with the Institut Amadeus and the Africa Business Club, a student club at the Harvard Business School.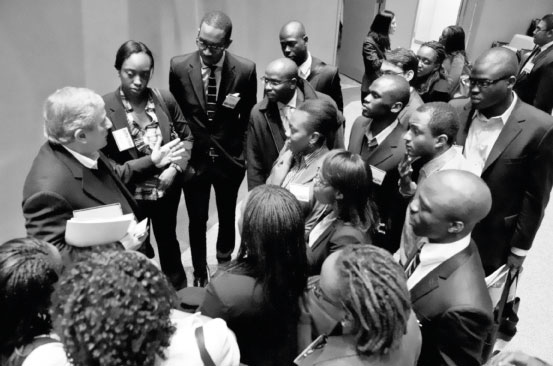 AFRICA'S SECURITY
AND GOVERNANCE IMPERATIVES
Many of the recent reforms are strengthening Africa's economies. But without security and improved governance, progress will be badly hampered. Are there concrete steps that can be taken to improve the security climate?
• Do real action plans for improved security and governance exist?
• Where can we find the best examples of a new approach?
• How significant are questions about security and governance for foreign investors?
Download the full 5 minute presentation.
AGRICULTURE: HOW CAN WE TURN AFRICA'S
COMPETITIVE ADVANTAGE INTO A GLOBAL FORCE?
Africa needs to both increase its food production for domestic consumption and take advantage of the global opportunities provided by its vast arable territory and superb growing conditions. What are the keys for development of agribusiness?
• Can agriculture be both a force for economic development and an entrée into global markets for Africa?
• Where are the most interesting innovations occurring? What's needed to ensure food security?
Download the full 5 minute presentation.
DECODING AFRICA'S ECONOMIES:
WHAT DIFFERENT BUSINESS MODELS?
How do the economies of Africa's different regions compare?
Are the macroeconomic fundamentals in place for sustained growth?
• Where do business leaders see the most promising opportunities in the coming years?
• What regulatory barriers remain?
• Are there success stories that can be applied across the continent?
Download the full 5 minute presentation.
FOREIGN DIRECT INVESTMENT:
WHAT DOES THE FUTURE HOLD?
Foreign direct investment in Africa has risen in recent years, but some of the fastest growing economies are not getting their share.
• What are the promising areas for FDI?
• What can government do to improve the flows of FDI?
• Do global companies recognize the real opportunities in Africa?
Download the full 5 minute presentation.
REGIONAL INTEGRATION:
CAN BETTER INTEGRATION IMPROVE COMPETITIVENESS AND STRENGTHEN ECONOMIC DIVERSIFICATION?
• What opportunities are there for businesses in the developing regional economic and trade frameworks in Africa?
• Is there effective knowledge-sharing among the different regional groupings?
• What will knit together the efforts of different regional frameworks?
Download the full 5 minute presentation.
Youth Is The Future Of Africa
Africa's future will be determined by a rising generation of entrepreneurial, innovative leaders in both the private and public sectors. What vision do they have for the continent's future, and what do they ask from the current generation of leaders? Five African graduates of Harvard Business School will be in dialogue with African heads of state and CEOs about their vision, the role of the diaspora, and what needs to change.